POBLENOU OPEN NIGHT 2018 – DESIGN THE BARRIO
DESIGN, COMMUNICATION AND PRODUCTION STUDIES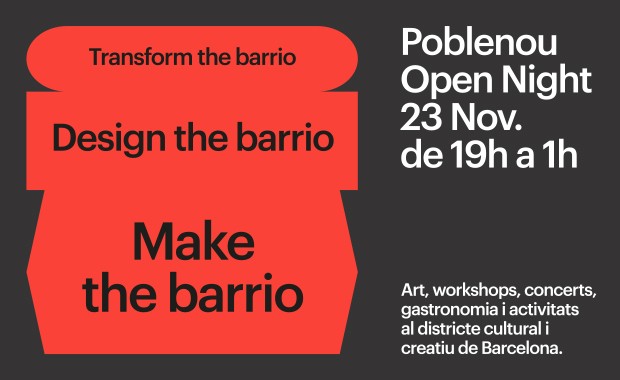 Poblenou is the neuralgic point of the city for design and production studios. The perfect area, with large spaces, to settle around creativity, since this is where everything is cooked. For Poblenou Open Night, the spaces for design, communication and production open their doors to the public to offer a set of activities where you can experience first hand the method of work, inspiration and creation of audiovisual ideas. Also attend talks, meet the artists, participate in activities … and much more!
Mediodesign
Open doors of the workshop with exhibition of ongoing projects: furniture, facilities, product, prototypes, etc. Sale of products of the brand 'Objects by Medium' with special discount of 15%. Music, beers and some more surprises.
19h a 22h
Pallars 85-91
mediodesign.com

Nodo
Inauguration of Node! The space dedicated to design and communication will present its latest designs with live music and its incredible Led Mappings! Do not miss it!
19h a 01h
Llull 57
www.nodo.studio
ROC35
The gastronomic space presents Showcooking with 3 chefs! Roc35 presents a scandal programming that includes the most innovative and avant-garde cuisine so you can try it! The Showcooking will be married with the best beers and live music!
19h a 01h
Roc Boronat 35
roc35.com

Alblanc
Discover the urban floral oasis of Allblanc! With live music by Acqustic that will bring live jazz. Plants, flowers and a floral fauna that you can enjoy with the best cocktails.
19h a 00.30h
Badajoz 90
alblancatelier.com
Punto Consulting Retail Experiences
They present a round table about luxury: What is luxury today, and how do we sell it? They want to reflect with the 3 invited experts on the reality of the Luxury Market. How do we create retail experiences and environments, capable of moving beyond the traditional values of luxury? What attracts new consumers of these products?Speakers: – Laura Clèries (Materfad) – Francisco Rodríguez (Estée Lauder Spain) – Amanda Pérez (Perfumes Loewe, LVMH Group). They invite you to listen in first person to those who share these doubts in their day to day professional and, of course, to give your opinion in a debate that is expected interesting.
>>Sign up to reserve your place by sending an email to >>punto@puntoconsulting.com (Aforo limitado).
19:30 h a 21.30h
Ptge. Ferrer i Vidal 12, bxs.
puntoconsulting.com/es
Apart
Apart, a multidisciplinary space dedicated to innovation, opens its doors to present the new collection of Firmamento Azul Surf. A timeless, relaxed and radically sustainable collection. Made of organic cotton, using 100% vegetable dyeing methods and a final sand wash. Display of pieces, music and beer.
19h a 00h
Pujades 50
apart.firma.es
Indissoluble
Come and meet your Brain Dome. A structure over 8 meters long and weighing 2 tons with a spectacular interactive Led Mapping system. In addition, they will have the best music and a cool beer for you.
19h a 01h
Pujades, 130
indissoluble.com
Goroka


Goroka presents El Bloque TV on a night dedicated to new formats for the distribution of musical and audiovisual content. This collective reinvents a medium with a long history, live music programmes, and adapts it to the new reality of social networks.

Artists such as C. Tangana, la Zowi, Yung Beef and Bad Gyal have been featured on its programme. The Bloque TV, focused on the trap scene and urban music, is broadcasted on Youtube and amplified on Instagram, claiming the role of the music of the neighbourhood, the periphery and the margins in the current music scene.

After a brief presentation and a chat with its creators, the night will close with a DJ set of the collective and live performance by Aida Tibak.

This is the second meeting of #OpenGoroka, an open format about storytelling, innovation and collaboration.
19h a 22h
Pujades 81
goroka.tv
Minded Factory
Do you want to discover a set inside? Open house on the set of his producer with music, art and beer.
19h a 01h
Pere IV 78-84
mindedfactory.com
Tecnoart
Visit the Tecnoart press and discover how a printing company is with a guided tour through the music of their Dj set! They will have a small personalized detail for the attendees.
20h a 01h
Pujades 74
tecnoart.org
Wò_Cultura Creativa
They open the doors of their communication studio so you can discover their space with live music!
19.30h a 21.30h
Roc Boronat, 66 4ª
wobarcelona.com
---
POBLENOU OPEN NIGHT 2018, 23 DE NOVEMBRE