SERGIO MORA: New cover of the fourth edition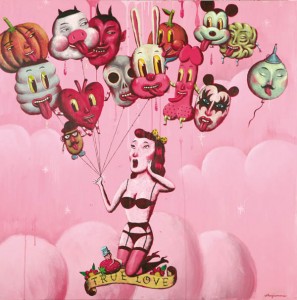 We already have it! The new cover map of Poblenou Urban District with Sergio Mora's illustrations!
For the cover we have used La Pantera Rosa, of Kamasutra collection, where Mora shows one of her most intimate parts in its surrealism and Flemish influence.
A multidisciplinary artist trained at the School of Arts and Trades, La Llotja. His prolific output carries us into subversive, circuslike worlds of beautiful monsters and monstruous fantasies in the different media he uses: painting, illustration, video, comics or performance. His personal artistic beliefs have made him the leading exponent of Pop Surrealism on the Peninsula. He has exhibited worldwide, published books, contributed to magazines, carried out advertising campaigns and engaged in a host of other collaborations.